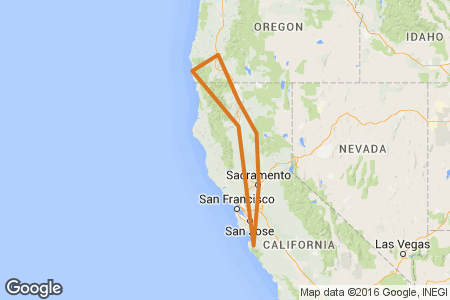 Trip Theme: National Skinnie Winnie Rally
Trip Overview:
May 16:
First night out, as usual, only a few hours away. Tried Cal-Expo in Sacramento; only so-so. We tried it based on glowing reviews (and dog park, which isn't very big), but think we'll stay with the Sacto KOA for northbound trips.
May 17
: What are the odds? Pulled into Friendly RV in Weed, CA rather late in the day for us because we spent most of the day in Redding at Camping World, trying to get a leak repaired. Campground was practically empty. Manager puts us in a site next to another V/N. Guess who's in that RV? Our rally co-hosts, who then proceed to make us dinner! Such a happy coincidence.
May 18
: Had another great visit to Medford and the Jacksonville area. Stocked up on rally food (and Abecela Tempranillo!) at Costco, visited the city dog park again, and met up with an old friend for cheese tasting and lunch at the Rogue Creamery. Wow--that smoked blue cheese is going to be a hit when we give it for Christmas this year. Laid up short of the rally site at Valley of the Rogue State Park--a very nice park just off I-5.
May 19-23
: The View/Navion National Rally at Seven Feathers RV Resort. A few pix:
Lisa and co-host chilling before the first presentation of the rally
Lynn and Claudia's collection of V/N rally stickers
Co-host Dave introducing Russ Garfin of Winnebago Industries
Russ explaining the new 2015 line up and taking heat from the assembled owners over various product design choices (!).
The first night's entertainment: native drummers.
And, yes, this one WAS an intruder in our line up. (He snagged a cancellation's spot.)
May 23-24
: Turtle Rock Resort at Gold Beach, Oregon. An awesome idea for an RV park: private deck with a BBQ and hot tub in our site, plus an easy walk to the beach (and the turtle rock):
May 25
: Crossed the Trinity Alps. Quite the winding and hilly experience. Didn't see Bigfoot, but we did luck into a great $10/night spot right on the high-water Trinity River on a holiday weekend. Gorgeous! Had to keep the leash on Bago, though, as that river was really rushing. Had to reel him in once when he went too far in....
Pretty nice spot for dinner and a fire. I liked this campground's strategy on firewood: $5 for as much as you could haul in the provided wheelbarrow.
May 26
: Laid up close to home at Casa de Fruta RV Resort because we needed to dump and wanted to get home early in the day to unload, not in the evening when exhausted. Campground was a nightmare after the 3-day weekend, though. Trash everywhere (which of course Bago found and ate.....).