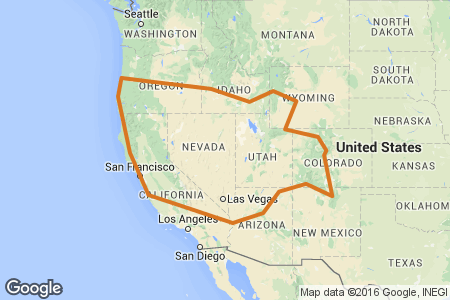 Trip Theme: Mountains and Monsoons
Total Miles: 4,880 miles
Number of Nights: 40
Average Camping Fee: 31.22 (the $82/night Bend place really blew our average out of the water! Without that place, we'd have been at $26)
Average MPG: Oops. Didn't trap, but I recall that it was nice and high because we took 2-laners and drove 55mph or less most of the time.
Number of States: 8, none new
Weird Coincidences: Seeing the same fellow travelers in a totally different place. Happened three separate times. We saw one gal in THREE separate places. Guess we were doing the tourist thing in high season....
Favorite New Parks: We'd definitely go back to the Idaho state parks (Massacre Rocks, Bruneau Dunes) in cooler weather. It'd be particularly fun to go to Bruneau Dunes when they have their astronomy nights. Discovered Teton National Forest campgrounds--MUCH better than the heavily trafficked NP CGs. Most of the other parks were nice, but not ones to write home about. Now, that park in Molas Lake outside of Silverton that we saw, but didn't stay in--that looks like a good place to go back to (and also Ouray--heck that whole corner of Colorado we love).
RV Maintenance: Not a darn thing. Rocksie ran like a champ.
Close Calls: railroad arm in Idaho; lightning/hail/flooding in Flagstaff
Biggest Disappointments: Missing my Geocaching travel bug BY A DAY in Arizona (after watching it for YEARS) and not being able to go to Ojo Caliente because of mudslides (those monsoons....). Also, not finding a good spot for the 2014 View/Navion National Rally.
Best Surprises: Elk jam in NorCal, dog-friendly ski lift in Telluride, free tix to the closing night of the Jackson Hole music festival
Best Museum: Toss up between the very cool Riordan Mansion in Flagstaff and the Idaho Potato Museum ("taters for outta staters").
Bago's Swimming Holes:
Cattail Cove: Colorado River

Durango: Animas River

NM: El Vado Lake

Outside Taos: Rio Grande

Leadville, CO: Turquoise Lake

Dillon, CO Reservoir

Steamboat Lake

Flaming Gorge Lake

Atherton Lake near Grand Teton NP

Jackson: Snake River

Unity Lake Oregon

Pond in Bend, Oregon

Pacific Ocean in Oregon (MANY times)